George Everett Wilson, Sr. is a main antagonist of  Dennis the Menace.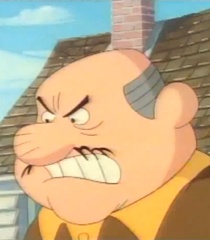 A cranky, cantankerous, elderly next-door neighbor; a retired postal carrier and (at least, as far as Dennis is concerned) his best adult friend. Dennis likes Mr. Wilson but unintentionally annoys him, as he regularly disrupts Mr. Wilson's attempts at a serene, quiet life. Dennis often interrupts Mr. Wilson's hobbies such as gardening, as well as coin and stamp collecting, at times accidentally damaging his property. As a result, the gruff old retiree displays a less than cordial attitude towards the young boy, though Dennis continues his well-meaning intrusions unabated. Actually, as many readers suspected, he is secretly fond of Dennis and misses him when he's away — although he'd never openly admit it. Mr. Wilson is named after a teacher Hank Ketcham knew. Dennis will often (especially in the TV series) refer to him as "Good Ol' Mr. Wilson".
Voice History
Edit
Larry D. Mann (1980)
Phil Hartman (1986)
Maurice LaMarche (1988)
Greg Burson (1993)
Tom Arnold (2002)
Reference
Edit
Community content is available under
CC-BY-SA
unless otherwise noted.